MARYSVILLE MARATHON - 10th November 2019
COURSE MAPS
4.5km Run/Walk
Yes after 4 years of giving you an extra 500M,
we have finally decided to call it the 4.5km course that it has been since 2014
Same course just recording those extra 500M as official distance.
The map below is from the new 2014 course. It is intended that this years courses for all events will remain the same.
However, all courses are subject to safety requirements as determined by Parks Vic which are partly dependant on weather conditions on the day. This means there is always a possibility of last minute course modifications.
The Marysville region is set in the beautiful Yarra Ranges.  The course is mostly off road and mostly single trails and incorporate some rolling hills and the odd steeper climb. But remember what you climb you get to descend at the turn around point.
Although the courses are designed to follow the gentle river valleys they do offer some additional challenges. You will see some picturesque scenery showing the spectacular and triumphal rejuvenation of the forests over the past five years.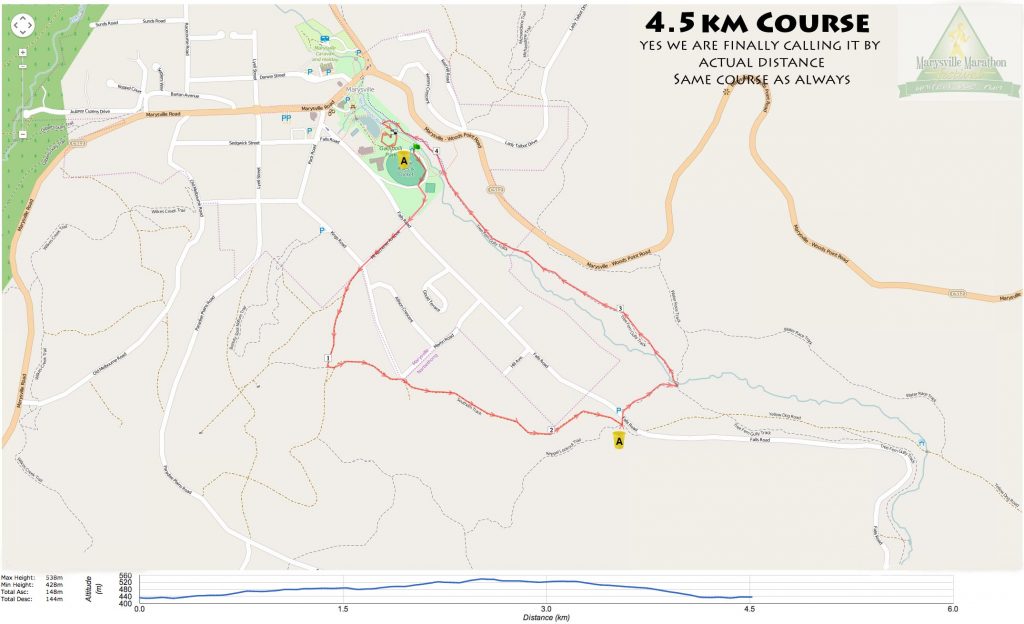 START: 11am
REGISTRATION: from 10am
See Pre Race Brief notes for a full description.