MARYSVILLE MARATHON - 11th November 2018

NEW SPONSOR OPPORTUNITY
Welcome to the
10th Annual
Marysville Marathon
Sunday 11th Nov 2018
2018 ENTRIES OPEN
8PM
Wednesday 1st Aug 2018
OUR FRIENDLY TEAM COMPETITION
RETURNS
This year there will be slightly tighter rules about teams. We want to encourage all the smaller medium groups and clubs along with corporates to join in and celebrate the 10th running of the Marysville Marathon Festival.
Pre Race Dinner
Join us for dinner on Saturday night before the marathon. This is a great way to mix with fellow runners before the big day. More details coming soon. Keep this in mind when you are planning your weekend. During your entry process you will be asked if you intend to join us for dinner and how many people in your group will attend if not just the entrant. At this stage we hope to host the dinner at the Race Venue in Gallipoli Park, either cater for by Lions Club or other organisation, we are working on guest speakers joining us also and hope to have 200 people celebrate the significant contribution the Marysville Marathon Festival has made to the community over the past 10 years.
Food
Check out the food stores on site or walk to the main street for some great food from the bakery.
Music
Relax and enjoy post race live music.

Kids Activities
Lots of fun activities including OUR FAVOURITE animal farm and much more…
Competition
Are you a sports fan in general? Do you like motor sports?
Are you a V8 Fan? Holdens Red Bull Superstar Jamie Whincup
has donated a signed personal team shirt worn during 2018 supercar series
You can choose an additional ticket during your entry process for your chance to win this great prizes
 
---
Supporting
the great work of


Bushfire
Education Foundation
(Marysville)
---
Please support our
event partners
as they support Marysville

WELCOME
To the 10th Edition of  the Marysville Marathon Festival features running events of 4 km, 10 km, Half Marathon (21 km), Marathon (42 km) and Ultramarathon (50 km) on scenic valley trails and forest tracks, passing sparkling rivers and waterfalls.
The participants travel alongside the Steavenson River and Falls, Take on beautiful forest trails and for the longer distances some challenging hills await and great rewards at the top.
Walkers join in the shorter distances. Participants have a great day out, supporting the community recovering from the 2009 bushfires and enjoying the refreshments and family entertainment provided. In 2018 all participants receive a 10th Edition Custom Medallion
Thanks to all for contributing to a great local event.
LOCATION MAP
---
10th Year
Supporting our Environment
we are a Paper Cup Free
Event
Please help us help the environment, previous Marysville Marathon events have used over 5000 paper cups per event all ending in landfill. Under the management of trailsplus 2018 has seen a big step forward to reduce waste and our impact on the environment, we hope you will be right on board and support us as we continue our cup free event policy. We know its going to be hard to eliminate cups from every aid station, however we are making available at less then cost reusable collapsible silicone cups for $2.50 we encourage you to purchase one at race bib collection.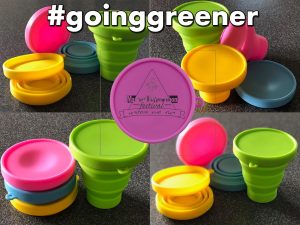 ---
The Neil McKern Marathon
(1946 – 2014)
Dr. Neil McKern and his wife Carol lost their part-time home in Marysville in the 2009 fires, which they rebuilt in following years.  They joined in the community recovery, and Neil was instrumental in establishing the inaugural Marysville Marathon Festival in 2009.  He claimed to know a bit about running, having excelled at 2000 m events and was part of a 4 x 800 m team that set the Australian Open & National Record in 1971 in 7:31, with Neil running 1:55.  Even more remarkable, in 1978 he came second in the Victorian Amateur Athletic Association Marathon Championships in a scorching 2hr 21min, averaging 3:22 per km!  In 1979 at the Victorian Championships at Point Cook he not only ran the 1500 m in 3:50 but tore up the marathon track in 2hr 22min, just 8 minutes behind Robert De Castella.
Neil was an esteemed CSIRO scientist, accomplished musician and gardener, and most of all a loving family man.  We are proud to remember him this year with the Neil McKern Marathon at Marysville.
Male Ultra 50Km Winners
1st Josh Goding 4:28:10
2nd Dan Beard 4:34:25
3rd Lee Eddison 4:34:31
Female Ultra 50Km Winners
1st Katherine Macmillan 5:08:47
2nd Meagan Tharratt 6:05:22
3rd Sabrina Czesla 6:12:18
Male Marathon Winners
1st Matthew Crehan 3:47:51
2nd Michael McCormack 4:00:48
3rd Jason Rawlings 4:01:25
Female Marathon Winners
1st Veronica Parker 4:47:04
2nd Dawn Parks 5:18:48
3rd Lauren Brennan 5:29:49
Male Half Marathon Winners
1st Mark Corbyn 1:34:06
2nd David Carmeron 1:37:25
3rd Moses Dickens 1:39:55
Female Half Marathon Winners
1st Dervilla Holmes 1:41:25
2nd Anna Kentwell 1:44:23
3rd Sarah Hedger 1:50:52
Male 10k Winners
1st Michael Johnson 40:53
2nd Harry Bowen 46:17
3rd Bryan Ackerly 46:48
Female 10k Winners
1st Stacy Clarkson 45:20
2nd Jemima Geitz 48:54
3rd Robyn Lawson 49:15
Male 4k Winners
1st Tom Saxon 20:03
2nd Drew Dunstone 20:16
3rd Liam Scott 21:11
Female 4k Winners
1st Sarah Wong 24:26
2nd Ruby Nancarrow 28:30
3rd Sophia Sipos 28:34
---
WEATHER HISTORY
2009 – very hot
2010 – very hot
2011 – very wet, muddy & cold but fined up later
2012 – almost perfect
2013 – PERFECT
2014 – BEAUTIFUL
2015 – a magnificent day in between lots of wet days!
2016 – cool sunny day, perfect for running
2017 – warm sunny day, just glorious